greater kobold
Monster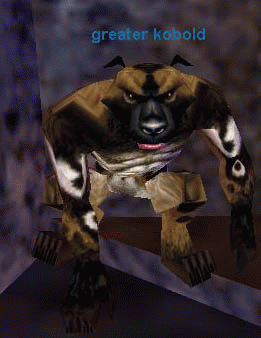 Uploaded July 24th, 2007
The stock member of the tribe of kobolds who call themselves "Kobolds of Fire Pit" the Greater Kobold can be found throughout the Kobold Lair in Nagefen's Lair.
These Kobolds vary widely in level and can hit for as much as 96 per hit. They are impressive meleers, yet seem to have a fairly low resistance to magical based attacks.
The combination of Bronze armour and Fine Steel Weapons that they drop make them worthy hunting for loot.
This page last modified 2008-01-02 15:00:46.
Minimum Level
: 33
Maximum Level
: 37
Expansion
:
NPC Added: 0000-00-00 00:00:00
NPC Last Updated: 2022-01-22 16:18:29