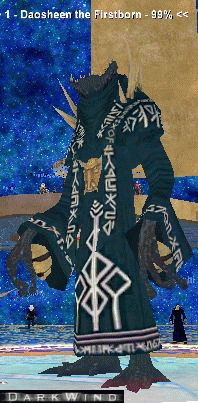 Uploaded July 24th, 2007
For this raid, it is recommended four people (preferably with feign death) get designated as 'crystal clickers' (more on this in a moment).
Max hit ~5000; AE rampages (mitigated to ~2200).
He is slightly slowable; has average resists; sees invisibility; does not see Shroud of Stealth.
He may look it, but is not permanently rooted. He has no tether and will even follow you through the portal to the lobby of Skylance.
Spawns adds called "a crystal spirit" (mezzable): Four adds at 90 and 80% (one at each crystal); eight adds at 70, 60, and 50% (two at each crystal); and 12 adds at 40, 30, 20, and 10% (three at each crystal).
He casts four spells on random people throughout the encounter. They are cured by clicking on a crystal: Plague of Mana (green); Presence of the Firstborn (red); Curse of the Firstborn (yellow); Smothering Dismay (blue).
Beginning at 75%, he begins AEing Runes of Alliance and Aura of Stone. These spells land on about 25 people at a time. This is where the 'crystal clickers' come in. A two-click combination cures these spells: Yellow-green for 'Runes of Alliance' and red-blue for 'Aura of Stone'.
At about 10% and again at about 5%, he AEs the spell Doom of the Firstborn. The 'crystal clickers' need to do a four-click combination to cure this: Red-yellow-blue-green. You have approximately 12 seconds to do this.
Note that if Daosheen is killed before the final wave of adds despawn, the adds will remain up and need to be killed. Note also that if a charmed player gets the killshot on Daosheen with a DoT, the task will not update and the corpse will disappear.
Submitted by: Saraban of Darkwind
This page last modified 2007-09-18 09:28:56.