Sir Edwin Motte
Monster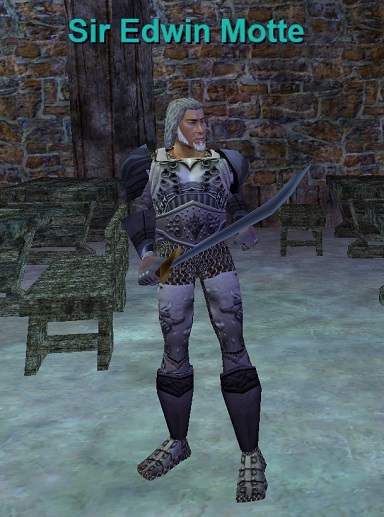 Uploaded September 6th, 2019 by
Drewinette
In Mountains of Rathe:
This mob spawns at 3946 -1366 inside the Inn north of the hill with all hill giants.
PH's are:
Rell Ostodl
Peltin Funter
Jars Legola
Sylp Tyanathin
Jyle Windstorm
Hogus Durmas
Zepin Winsle
In East Freeport
This mob spawns at -1091, -1110 inside Seafear's Roost, next to Palana Willin.
Findable (via Ctrl-F): No
You say, 'Hail, Sir Edwin Motte'
Sir Edwin Motte says, 'Greetings, _____! How lucky you are to encounter the greatness of the legendary Sir Edwin Motte, slayer of cyclopes, battler of beasts, crusher of creatures, masher of monsters, eradicator of evil and champion of the third annual dart championship of Freeport.'
This page last modified 2019-09-07 03:27:32.
Level
: 33
Expansion
:
NPC Added: 0000-00-00 00:00:00
NPC Last Updated: 2019-09-06 19:25:16