froglok repairer
a rare creature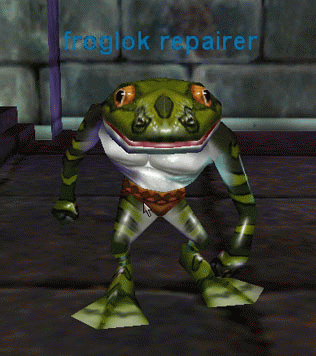 Uploaded July 24th, 2007
In Old Sebilis (Level 105 Revamp):
This mob spawns at Froglok repairer spawns in the west wing in Old Sebilis, farthest room south. As you go down the stairs into the room, the PH is the center mob (5 mobs in room that form an X...PH is the one in the middle).
Summons: Yes
This page last modified 2017-06-27 00:00:54.
Minimum Level
: 52
Maximum Level
: 53
Expansion
:
NPC Added: 0000-00-00 00:00:00
NPC Last Updated: 2021-06-05 18:32:08