The Widowmistress
a rare creature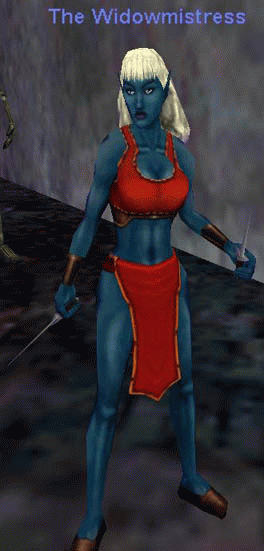 Uploaded July 24th, 2007
This darkie girl will spawn in place of one of the spiders in najena. I had assumed her to be a pushover being a lvl46 cleric but I had buffed myself full anyway (reso, naltron, AC, resists etc) ended up way tougher than i'd have imagined, has like 4 attacks a round for 68's but I think she may hit harder (after all i wasn't tanking her :D managed to root in time), procs poison so she's probably a rogue. I am told that she's red to a lvl31, was blue to me at 46, my guess is that she's around lvl36/37. i was at 80% mana when starting the fight and ended up having to use manastone to cast the last nuke on her.
Entered from submission.
This page last modified 2018-08-09 10:00:09.
Level
: 36
Expansion
:
NPC Added: 0000-00-00 00:00:00
NPC Last Updated: 2021-05-16 22:02:39