Rodcet Nife is allied with
Karana
,
Quellious
,
Erollisi Marr
and
Prexus
, and his only enemy is
Bertoxxulous
. Followers of the Prime Healer take a solemn oath to fight disease and death until one or the other finally claims them. They are very generous and humble, asking little more than that the recipients of their aid pass the kindness on to another. They are not content to deal with the effects of disease and death after they occur and vigorously seek to destroy the sources of these evils. Healers and mystics are typical followers but many noble rangers and paladins also have also taken the Nife Oath. They believe that, through faith in the Prime Healer, the wounded heart of the universe shall one day be mended and death's dark shadow will never be seen again.
[1]
Rodcet Nife returned to Norrath in The Shadow Odyssey expansion.
| Miracle Name | Favor | Description |
| --- | --- | --- |
| Ward of Devotion | 1125 | 30% chance to absorb attacks |
| Empowered Prayer | 1312 | Heal spells cast will convert to additional power |
| Devout Healing | 1500 | Reactive heal, on a single target, that heals your group when damaged |
| Soothing Spirit | 1687 | Summons a limited pet to aid the caster |
| Armor of Faith | 1875 | Increases base heal amount, shield effectiveness and reduces critical damage |
Bear in mind that the favor cost varies depending on which altar you are praying to. The humble altar you receive when you begin the quest series has a higher favor cost for blessings and miracles. Crafted altars or the final quest altar will greatly decrease the amount of favor needed.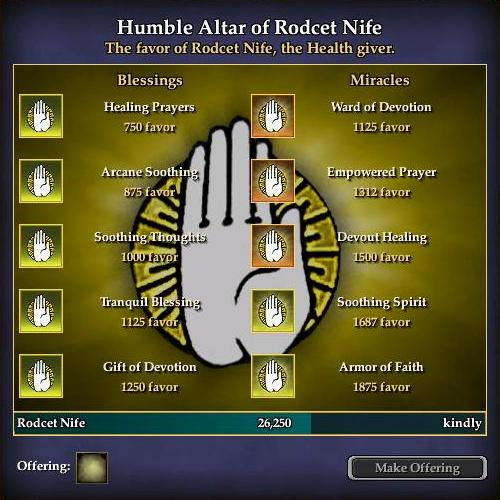 This page last modified 2012-05-22 13:55:57.