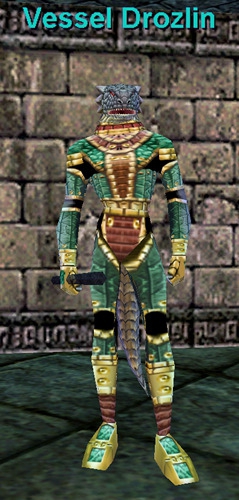 Uploaded December 23rd, 2019 by
iventheassassin
Found near the shaman's guild in East Cabilis. You can perhaps get to him easier if you use the tunnels in the water.
Maximum hit: 315
This mob spawns at 532, -834.
Respawn Timer: Nine hours after being killed and from five to fourteen hours after zone or server reset.
Froggito's post has been cited as "very helpful":
His location in East Cabilis is (532, -834), but what most people fail to mention is that you CANT get to him by jumping in the water and swimming up through 1 of the holes.
Here is my strategy for this mob start to finish.
1st - of all, when running through Cabilis, use invis, NOT iksar illusion. Only about 1/2 the mobs change from kos while in illusion so invis you way through the city for sure.
2nd - to get into the sewers, you have to enter through the shaman/sk guild area. You use the red glowing walls to get up into the building, climb to the roof, and decend down the ladders on the east side. They will take you to the sewers.
3rd - once you find your way to the sewer, you're going to drop down a massive hole in the floor and thats when you can begin your search. Cast LEVITATE otherwise youre going to run in circles, each of the 1st 3 hallways have invisible traps in the floor that drop you to a 1 way exit back to the sewer entrance. there are several 1 way walls in here to its important to take your time, look at the map and plan your route. If you get lost or stuck and have to swim out through the water, its ok, just invis your way back up and in and try a different rout. I got lucky and only had to restart once. The first correct direction I can point you in (once you get to the 3 hallways w/ the invisible trap floors) is to take the one to the west. Yes its going in the opposite direction at first but the turns/path lead you right around back to him. The room hes standing in is a square with a hallway leading to the right (i believe south on the map).
4th - The Fight - the best strategy to fight this guy is to pull him into the water (via that hallway south I mentioned). I say this because he does run at 20% and he'll leave you behind if he walks through 1 of the walls that you are unable to. If you pull him to the water, he'll swim around but you can always stay close up on him.
5th - Fight Info - I believe he's classified as an SK. When you fight him, make sure you bring some MELEE dps. When i fought him, I was a 62 enchanter and he resisted every single one of my spells. When I went to fight him, my group consisted of me (62enc) and a 63 beastlord. Both of us were geared in mostly defiant gear. Along with us we had a tank merc and a healer merc. So in total there was 4. Although it was really 3 since I was useless the whole fight.
The fight only lasted about 2 minutes. He ran as expected once he hit 20% hp. He his pretty hard at around 200-300 but the healer merc had no issues keeping everyone above 90% hp. Was a very clean fight, tank merc held the agro and the beastlord used his pet and melee to take him down. It might me a bit more challenging if you're doing it in your low-mid 50s, but the strategy of bringing him to the water and needed melee dps is still the same.
I cant speak to whether or not he'll be up when you look for him. From what I've read, he has a respawn of 2-7 days. I can't confirm since he was up when I went looking for him. The drop is 100% i believe so you shouldn't have to do this more than once.
This page last modified 2021-02-11 02:56:34.