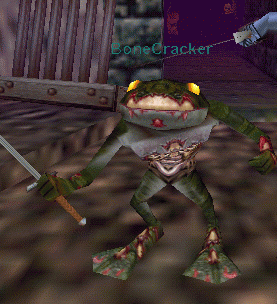 Uploaded July 24th, 2007
In Najena: This undead froglok is found deep within Najena.
In House of Thule, Lower Floors: This is a skeleton found at 700, -625, -61 (in room northwest of the largest room in the basement). Note: For all map points of nameds in House of Thule, Lower Floors (for "thulehouse1.txt" map files), see this quest entry.
In Beasts' Domain: Spawns along the river southwest of the Argath entrance; max known hit 14,226; has ~5.5 million hitpoints.
This page last modified 2014-09-03 13:29:30.