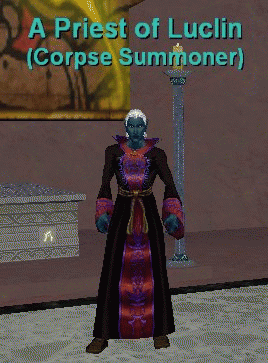 Uploaded July 24th, 2007
In Mines of Gloomingdeep: Corpse Summoner located near the zone-out of the Tutorial zone.
You say, 'Hail, A Priest of Luclin'
A Priest of Luclin says, 'Here, we are devoted to serving the will of the mistress of Shadow, Luclin. Luclin is the ruler of the twilight -- that which exists between light and dark, life and death. When brave adventurers fall in the realms of Norrath, their material bodies must pass through the dusk of existence. If you are in need, we may be able to [summon] back the remnants of your former life before they drift completely into darkness.'
You say, 'summon'
A Priest of Luclin breathes deeply and begins to chant. Shadows begin to drift across the floor and over the altar, swirling upward as if to reach Luclin herself. The priest's voice is soon joined with several others, blending into a fervent, esoteric chorus as the shadows slowly coalesce into a familiar wispy mass. The two candles near the altar explode with light and there, before you, appears all that remains of your former life.
---
As of the November 2021 patch, they don't require a Soulstone anymore to summon your corpses, and the Disciples of Luclin selling those stones were also removed.
This page last modified 2021-11-18 21:00:28.