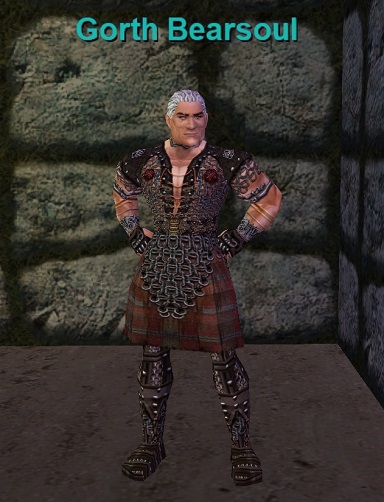 Uploaded August 17th, 2019 by
Drewinette
You say, 'Hail, Gorth Bearsoul'
Gorth Bearsoul says, 'Hail, yerself. I'm sure ye've better things to do than to bother a man makin' his potions, then, eh?'
You say, 'What potion of sorrow?'
Gorth Bearsoul says, 'Ach! What'd ye be needin' that fer? Only those of dark magicks require such a thing and by me mother's eyes, never could I sell to such a soul. If yer soul be clean, then put yer [money] in this enchanted pouch and I'll know yer intent. If yer soul be rotten, I'll be knowin', and ye'll be dead. Tis indifferent I'd better be to yer actions.'
You say, 'money'
Gorth Bearsoul says, 'Sure'n ye dinnae think I'd give ye a potion fer frree, then? I'll be needin' five hundred gold coins to make such an item. 'Tis hard t' make and few are the uses fer such a potion.'
Give him 500 gold coins (or 50 platinum coins).
Gorth Bearsoul says, 'Aye. I guess ye truly are a good soul. Good luck on whatever ye needed such a dread item fer.'
You gain experience!
You receive Potion of Sorrow used in the Erudite Necromancer quest Azrax's Legacy in Paineel.
This page last modified 2019-08-17 22:18:39.