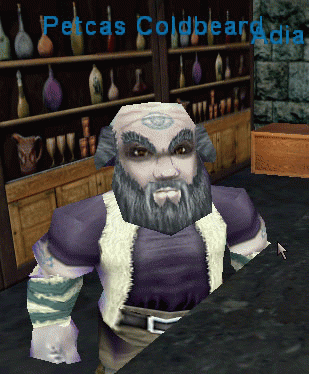 Uploaded July 24th, 2007
Updated July 25th, 2007
Paladin
Located in a bar near the bank.
You say, 'Hail, Petcas Coldbeard'
Petcas Coldbeard says 'Hail to ye as well offlander. I bid you welcome to the Icy Mug, one o' the finest establishments for a drink in Thurgadin. Whether it's [souvenirs] or stories yer lookin for, you've come to the right place.'
You say, 'What souvenirs?'
Petcas Coldbeard says 'Here at the Icy Mug we have our own signature stein fer yer drinkin pleasure. For only 5 gold pieces ye can take one home to show yer kinfolk.'
Hand him five gold pieces and receive The Icy Mug Souvenir Stein.
This page last modified 2018-09-01 13:47:40.