Where:
Who:
Rating:
Information:
Level:
45
Maximum Level:
115
Monster Mission:
No
Repeatable:
Yes
Can Be Shrouded?:
No
Quest Type:
Task
Quest Goal:
Quest Items:
Related Zones:
Era:
Recommended:
Group Size:
Solo
Min. # of Players:
1
Max. # of Players:
1
Appropriate Classes:
Appropriate Races:
Entered: Fri Jun 21 05:30:27 2013
Modified: Sat Feb 8 15:50:13 2020
Norx Blackheart (map) is an Iksar found in The Overthere. He's at 315, 700, 35 (on a hill overlooking the western part of the gorge in the middle of the zone).

You say, 'Hail, Norx Blackheart'

Norx Blackheart says 'Greetings. I am a simple scholar, seeking a fuller understanding of this world and my place in it. You are, of course, here to learn about your [enemy], know their [history], and what drove them [away] from this [place] long ago, yes? Or are you a simpleton merely interested in [armor]?'

You say, 'Tell me about the enemy'

Norx Blackheart says 'Of course, I refer to the Shissar, a race that oppressed even the mighty Iksar at the peak of their power. Thousands of years ago they [ruled] this continent, until their hubris brought about their [demise].'

You say, 'What about their history? How did they rule?'

Norx Blackheart says 'They ruled their empire of blood from the grand city of [Chelsith], built by Iksar slaves and powered by their dark arts. They dared to challenge the gods, plunder the planes, and travel through rifts of time. They tampered with the very fundament of existence, and eventually paid a terrible [price] for their actions.'

You say, 'What about this place, Chelsith?'

Norx Blackheart says 'Chelsith was in this very valley, aeons ago. Once the Green [Mist] drove the wretched Shissar [away], my ancestors tore down the palaces they had constructed as slaves and built the great city of Charasis on the ashes, as free beings.'

You say, 'What about their demise; this 'Mist'?'

Norx Blackheart says 'No one knows the true nature of the Green Mist, only that it came from the skies and bore the very visage of death. Great winds howled curses in languages unknown. The Mist descended upon the arrogant Shissar, even as they hurled their most powerful magics against it, and it dissolved the flesh from their very bones. Rivers of blood and gore flowed through the streets as their cowardly rulers sealed themselves within a great barrier to prepare their [escape].'

You say, 'What dove them away? How did they escape?'

Norx Blackheart says 'The Shissar leaders, desperate to escape the Green [Mist] that assaulted them, used terrible blood magic to transport themselves away. Most of them were able to reach a sanctuary on the moon of Luclin, but there were rumors that a rebellious group attempted to transport to a hidden laboratory elsewhere on Norrath as well.'

You say, 'Now, about this armor...'

Norx Blackheart says 'In my studies I have come across a method of forging highly intricate armor from the corrupted essence of my [enemy], the Shissar. If you are able to return a Corrupted Shissar Fang to me, I can use these armor [templates] that I carry to create whatever [ornaments] you like.'

You say, 'What templates?'

Norx Blackheart says 'I have some raw materials to create [plate], [chain], [leather], or [cloth] [ornaments] here. I simply ask a fair price to cover my costs to create them and fund my studies.'

You say, 'What ornaments?'

Norx Blackheart says 'Simply tell me the type of armor you want -- [Cloth], [Skin], [Chain], or [Plate] -- and I will let you choose an ornament of that type if you provide a Corrupted Shissar [Fang] and the proper [template].'

You say, 'A fang?'

Norx Blackheart says 'All Shissar are evil, of course, but there are some so twisted that they become exceptionally corrupted. Their corrupted venom collects in their fangs, and I am able to use that power to forge some very special armor. I make a modest amount of profit in order to continue my research, you get an exquisite ornament to wear, and more Shissar die. Everyone wins.'

You say, 'How about the plate?'

Norx Blackheart says 'These are the forms of plate armor that I know how to make.'

You have been assigned the task 'Ssraeshzian Plate Armor'.

Norx can create ornaments of Ssraeshzian cloth armor using a Corrupted Shissar Fang and the appropriate template. Give these items to him to choose your reward.


---

Deliver 1 Ssraeshzian Plate Template to Norx Blackheart 0/1 (The Overthere)

Deliver 1 Corrupted Shissar Fang to Norx Blackheart 0/1 (The Overthere)

Reportedly, Corrupted Shissar Fangs have a low chance to drop off (any?) Shissar in game, but a higher chance (1 in 3?) to drop off raid or named Shissar.

The templates are purchased from Norx Blackheart for ~1,185pp each.

Reward:
- Any one of the seven pieces of armor in the Ssraeshzian Plate Armor Hero's Forge Ornament set.


---
This is the full plate look: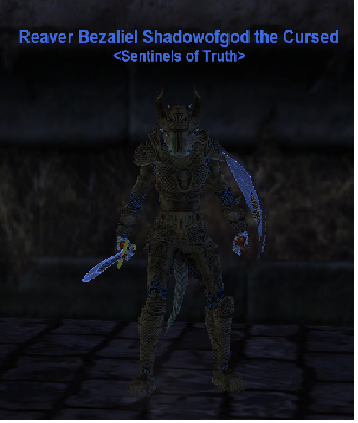 Prior to the July 16, 2013 patch, you were able to get a different set of ornaments based on equipment slot, but these are no longer attainable and now have the "Ancient" label.