Where:
Who:
Rating:
Information:
Level:
65
Maximum Level:
115
Monster Mission:
No
Repeatable:
Yes
Can Be Shrouded?:
No
Quest Type:
Expedition
Quest Goal:
Time Limit:
03:00:00
Related Zones:
Related Creatures:
Era:
Recommended:
Group Size:
Raid
Min. # of Players:
6
Max. # of Players:
54
Appropriate Classes:
Appropriate Races:
Entered: Mon Dec 17 17:17:36 2007
Modified: Sat Jun 29 18:30:16 2019
This raid expedition begins with Dizzl Nulzik at the Wayfarer camp in North Ro and takes place in an instance called The River of Recollection.

You say, 'Hail, Dizzl Nulzik'

Dizzl Nulzik bows to you. 'These are most exciting times for us! Exploring the world with such great companions, there can be no greater occupation. Well, maybe tinkering, but this is great. There are so many surprises around the bends of time, aren't there? Much to do, much to do! In fact, I can see that you'd like to get involved, eh? If you can rally the call of your friends perhaps you can help us with a serious [problem].'

You say, 'Problem?'

Dizzl Nulzik says 'It seems the sand elves of Takish-Hiz are very disturbed by our presence. Now our scouts report that some Geomantic Compact masters aim to create a beast of sand to unleash on all who enter Takish-Hiz. This would impede our gathering of information and such, so we need you to stop them. You will need your best and bravest for this task. Are you [interested]?'

You say, 'I am interested'

Dizzl Nulzik says 'Put the beast of sand to sleep if you must, _____. We're counting on you.'


---

You have entered Takish-Hiz: The Palace Grounds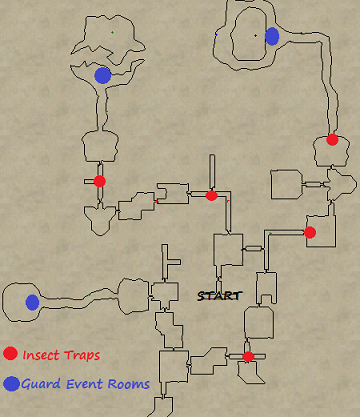 There are three non-targetable earth elementals at the entrance area: "a wayward defender", "a delinquent defender", and "an aberrant defender" . After a short time from zoning in the wayward defender will head north while the other two head southeast (aberrant defender) and northeast (delinquent defender).
In order to progress through the instance each of these three elementals must reach the guard event rooms at the end of their path. They will stop moving whenever a hostile NPC is near them but the defenders themselves cannot be killed. There is no timer involved with this event so the raid may choose to either stay in 1 big group and clear a single path at a time or to split up and assign a few groups to each elemental if they feel they are up to it.
Each path will have a modest amount of zone trash which hits from around 700-900 but mobs are spaced out enough that pulls should never be more than two mobs at a time. The biggest danger are the Insect Traps that will spawn 15 Ravenous Insects which will all attack simultaneously. These insects are weaker than normal zone trash, hitting for roughly 300 damage, but can be quite lethal as a swarm if caught unprepared.
Once all three of the "defender" elementals have reached their respective rooms the enraged guards will begin spawning. Each of the three rooms will have 5 "an enraged jeweled guard" spawn and will charge the raid if you are close enough. These each hit for around 800 damage and do not summon. To proceed, each wave of 5 guards must be killed in all 3 rooms, and there are 4 waves total. The raid will have a period of about 4 minutes between each wave from the time the final guard dies but if you need more time you can simply move further back to avoid aggroing when they spawn.
Once 4 waves of guards have been killed in each of the 3 guard rooms, a named NPC will spawn in each: "Master of the Guard" in the Northwest, "Tactician of the Guard" in the southwest, and "Champion of the Guard" in the northeast. These all function the same, hitting for about 1400 damage and can single target ramp, are rootable and are mezzable. They also leash to their rooms if pulled out and will clear all debuffs and fully heal if they do leash. Defeat them all to receive your chests.
NOTE: You need to defeat the Tactician and the Champion prior to killing the Master of the Guard in order to get all 3 chests.
Three Chests with loot will spawn in the room just south of "Master of the Guard".
---

Known raid loot from this event (Two items from each chest, can have duplicates from the same chest):

The Smoldering Chest
Battle-Worn Circlet of Sickness
Gemmed Sand Elf Slippers
Girdle of the Sandy Grove
Royal Gem of Alacrity
Takish-Hiz Ring of Vengeance

The Sand Covered Chest
Geomancer's Crown of Reformation
Geomancer's Ritual Drape
Sparkling Sand-Covered Helm
Takish-Hiz Architect's Leggings

The Diamond Etched Chest
Gemmed Sand Elf Leggings
Geomancer's Gloves of Celerity
Gloves of the Jeweled Guard
Spiritstorm Mask
Thick Jeweled Belt

Unknown which chest drops these:
Geomancer's Crown of Reformation
Jeweled Bracelet of the Champion
Shawl of Trapped Memories
Gloves of the Jeweled Guard