Chief Groplin
a rare creature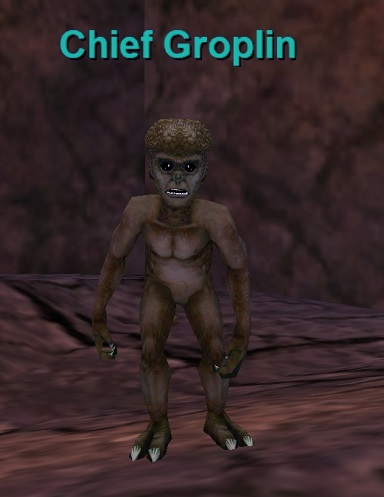 Uploaded July 3rd, 2019 by
Drewinette
This mob spawns at +535, +500.
Directions to him:

To get to him, go into the caverns via the "thief guild" which isn't really anything, in Shadow Haven but it's right next to the Soulbinder. Enter the Echo caverns and it forks two directions. Go left, follow it around until you see a set of doors with a guard at it. Go through the doors, then go straight through til you get to the back of the cavern, no turns necessary. There will be boglings before you get to him and there are some plants that you can not target that will ensare and suck the life from you so avoid those as well. He is right at the back surrounded by 4 mushrooms that hit for about 55 ea.
This page last modified 2017-10-05 16:05:41.
Level
: 30
Expansion
:
NPC Added: 0000-00-00 00:00:00
NPC Last Updated: 2019-07-04 04:32:56