Brawn
Monster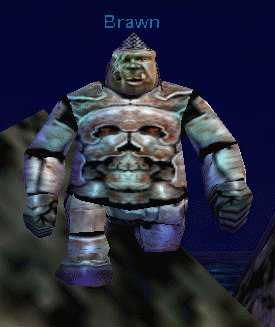 Uploaded July 24th, 2007
He spawns at the first cluster of rocks as you zone into OOT from BB. He spawned after I killed the three sirens on that specific rock (at loc 195, 9526), and also despawned again after somewhere between 5 and 10 minutes, only to spawn again a short while later (5 to 10 minutes again). Together with Brawn, two dragoons spawned both times (Dragoon Artellin and Dragoon Darl).
Brawn and his two Dragoon friends spawn at night (game time) in place of the sirens. It's automatic, you do not need to kill the sirens.
This page last modified 2020-02-02 05:48:56.
Minimum Level
: 20
Maximum Level
: 24
Expansion
:
NPC Added: 0000-00-00 00:00:00
NPC Last Updated: 2020-06-14 08:33:46