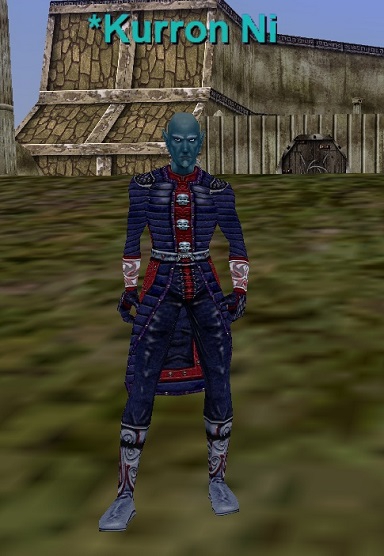 Uploaded July 28th, 2019 by
Drewinette
This mob spawns at +3248, +2202 inside the outpost, near the shore.
Respawn Timer: about 4 hours
Findable (via Ctrl-F): No
You say, 'Hail, Kurron Ni'
Kurron Ni says, 'Out of my way, stranger, I am on a delicate mission. Interfere with my search and I shall relieve you of your head! Bother me no more.'
You say, 'What do you seek?'
Kurron Ni says 'I have traveled here in hopes of finding a soul worthy of assisting me in completing my mission.
You say, 'I am worthy'
Kurron Ni says 'I doubt it, but I have been wrong before. Before I share with you the details of my mission, however, you must first prove your worthiness. Agreed?
You say, 'Agreed'
Kurron Ni says 'Very well then, my new friend. I have an acquaintance that stands in need of three pieces of Darkforge Armor. He requires the breast, greaves and helm to complete his set. I also must pay back a loan that has come due in the amount of 900 platinum. Return this to me and I shall share with you my dark mission, and the immeasurable reward that will be earned at its completion. Show your face here without fulfilling my request and I will offer you on the altar to Innoruuk himself. Be off!
---
He's the starting NPC for the Shadowknight Epic 1.0.
Game Update Notes: July 21, 2021: Reduced the respawn time for Kurron Ni from about 84 hours to about 4 hours.
This page last modified 2021-07-25 08:23:25.