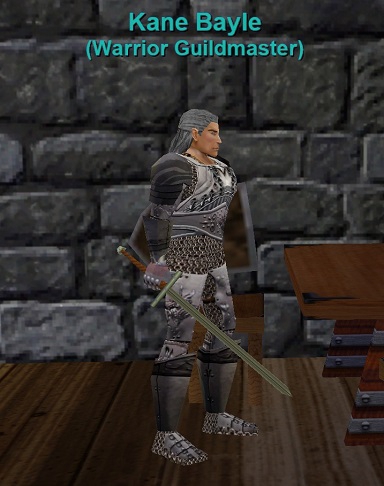 Uploaded November 3rd, 2019 by
Drewinette
This mob spawns at +269, +202 at the Guard House near the gates.
Findable (via Ctrl-F): Yes
You say, 'Hail, Kane Bayle'
Kane Bayle says, 'Hail, citizen! I am afraid you are not allowed in this building. You will have to leave. Good day to you.'
---
If you're in bad standing with Corrupt Qeynos Guards:
Kane Bayle says, 'How dare you speak with me, the Commander of the Qeynos Guards?! The reports on you have told me that we look forward to seeing your name on the most wanted list. Until then, stay far from me or find yourself in shackles!'
---
He plays a small role in the Donations quest.
This page last modified 2019-11-04 05:25:42.