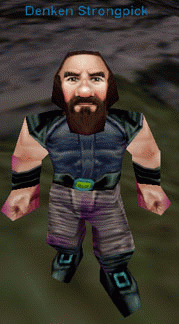 Uploaded July 24th, 2007
When hailed he says,
"Hello, Leppar . I am Denken Strongpick. I wish i could get off this rock, Silly clan honour. My boss broke our rebreathers and we can not go back to the mainland before we gather some goblin relic's."
Info submitted by: Leppar - 40th Monk Bertx
This mob spawns at 1300, 3650.
This page last modified 2010-03-11 20:53:14.