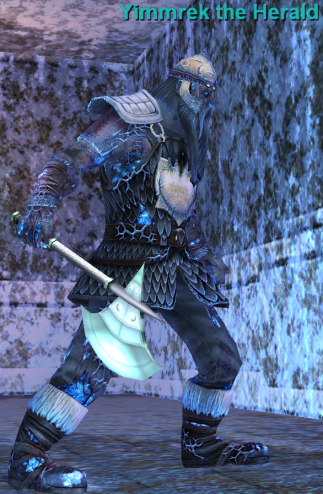 Uploaded November 18th, 2019 by
Gidono
In Kael Drakkel:
This mob spawns at -45, +1563, -194.
You say, 'Hail, Yimmrek the Herald'
Yimmrek the Herald says, 'Hello, hello! I am Yimmrek the small, herald of Kael Drakkel. Do you wish to hear the (news)?'
You say, 'Tell me the news.'
Yimmrek the Herald says, 'King Tormax has been enlisting the aid of outlanders such as yourself. Rumor has it that he will not speak to you unless you can prove that you are loyal and powerful. Many of our kind resent the recruitment of your kind to fight the dragons and the Coldain. I, however, see it differently. Better on our side than against us, eh? So what is your profession, Bonzz, or are you just a simple mercenary?'
You say, 'Mercenary.'
You say, 'Paladin'
Yimmrek the Herald says, 'A holy warrior, eh? It would be wise to hide your holy symbols in this city, my little friend. The worshippers of the Zek family may take offense. For your own safety, I suggest you act as though you are a simple warrior.'
You say, 'Warrior'
Yimmrek the Herald says, 'Ah, of course! There are many jobs in this city that could use the hand of a mighty warrior. You might seek out the trainer, Slaggak, in the frost giant quarter. Or perhaps you's like to watch the fights in the arena. If so, speak with Vkjor.'
NOTE: This leads to Vkjor, whose 3 tasks, to include the arena battle event, are all ready listed. Ditto for Slaggak.
This page last modified 2019-11-18 09:54:12.