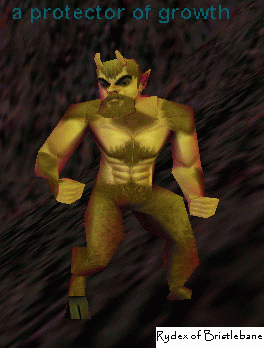 Uploaded July 24th, 2007
The Protectors of Growth or Pogs for short, are on a 25 minute spawn timer. They have a single static spawn, which can produce one or two Protectors. They will appear about 25 minutes after their death, and no - there is no breaking the spawn.
The interesting thing about them is that they have a zone-wide aggro radius. They will attack anyone KOS to them, no matter where they are in the plane. They do not train you with other monsters from the plane however (by virtue of faction).
They do not see invisible, so remaining invis on breakin or CR will keep them from attacking you. They take 2 minutes to run to the south end of the zone and three to run to the north end, and that can be sufficient for casting of pets after invisibility has been dropped.
They have very high magic resistance for their level, the 53+ ones can only be crowd controled by a level 60 enchanter with dictate.
This page last modified 2008-01-02 15:02:59.