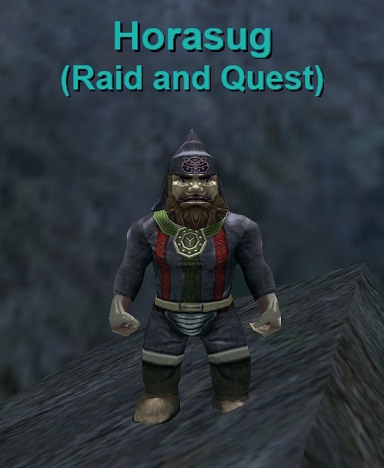 Uploaded October 26th, 2019 by
Drewinette
In Thurgadin: Warrior
In The Great Divide (ToV):
This mob spawns at -3467, +1908, -116 in the cave in the southwest side of the zone.
Findable (via Ctrl-F): Yes
You say, 'Hail, Horasug'
Horasug says, 'Hail, adventurer. I hope you have come to help us deal with the [cause] of this nightmare.'
You say, 'cause'
Horasug says, 'Well, it must be those rotten giants. It's that sorcerer they got, the one that lives in those caves. Why, if our army wasn't locked up safe and snug inside Thurgadin, we'd have an army in there by now to take of his head and stop all this. But you... you might be able to help us. You can gather up an [army] of you adventurin' types and go on in there and deal with him, right? I mean, you might even have success with a smaller [group] if you were real, real tough. I'm not gonna lie to you, that old giant with the stupid hat is dangerous, but maybe you should at least try.'
This page last modified 2020-04-19 15:58:22.