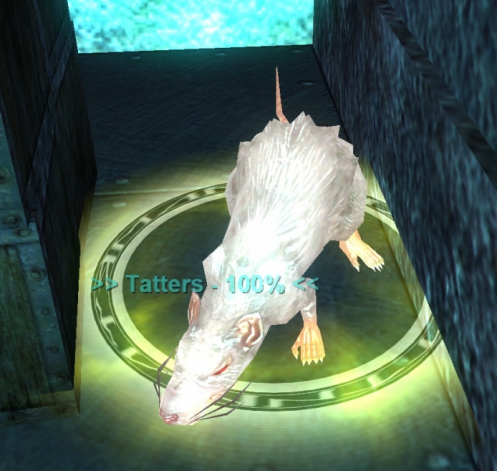 Uploaded April 26th, 2019 by
FormerlyKnownAs
Updated July 27th, 2019
In Gnome Memorial Mountain:
Maximum hit: 41k
Placeholder is: a brave rat
HP Estimate: 20 million
Single-Target Rampages: Yes
PH spawn locations:
1207, 35, 170 landing platform
1011, 115, 170 supply room
733, -31, 446 drill room
798, 58, 25 near museum
Every 40 seconds, Tatters will target a random member of your group and pounce on them, hitting everyone around (but not the targeted player) with Hungry Charge x3. The best strategy I've found is killing him in the drill room, and by spreading everyone around the room. None of the other NPCs in the room will assist.
Additionally, every 40 seconds, he will cast a curable DoT on the tank called Withering Bite.
Keep your group spread out and the DoT cured for a relatively easy fight.
This page last modified 2019-07-27 23:36:28.