an escaped froglok
Monster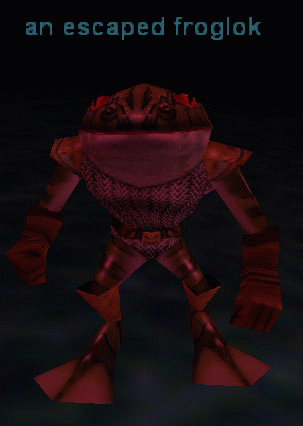 Uploaded July 24th, 2007
These can be quite rare and hard to find, but this elusive froglok has a trick. They need a froglok escort, which spawn most often between 8pm and 8am. The escorts will move from spawn point to spawn point which have the possibility of spawning a few mobs which are agro to them: a large mosquito, a skeleton, and a marsh leech.
There are a few placeholders which an escaped froglok can spawn from. You can tell which ones these are by how fast the placeholder moves, much faster than normal mobs. If there is an escort around, these placeholders have a chance to spawn an escaped froglok. It is not known if more escorts means a greater chance to spawn an escaped froglok.
This page last modified 2013-02-10 09:04:05.
Level
: 5
Expansion
:
NPC Added: 0000-00-00 00:00:00
NPC Last Updated: 2022-06-20 21:58:48