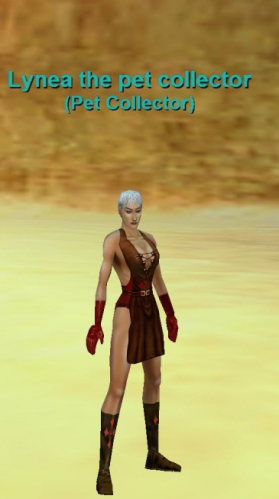 Uploaded July 9th, 2016 by
Nyquill
Located next to the soul binder in the tunnel at -1694, -2697, 36
You say, 'Hail, Lynea the pet collector' Lynea the pet collector nods, 'If you have an adoptable pet that's not right for you, I can take it off your hands. Perhaps I have a pet that would be a good match?'
Hand in an adoption pet you haven't already adopted and she will give you one adoption coin.
---
- Lynea the pet collector in the Commonlands will purchase your excess adoptable pets for a unique currency. You can buy a random discontinued pet from her using this currency. For selling her 10 adoptable pets, you get enough Adoption Coins to purchase one Random Pet in a Box.
Adoptable pets released so far include cats, large felines, dogs, and birds. Cat in a Bag, Big Cat in a Bag, Dog in a Crate, and Bird in a Cage may be purchased in the Marketplace. Using the item will give you one of several different types, each at random.
They are familiars, not combat pets, and also do not offer any buff.
This page last modified 2018-04-26 12:43:58.