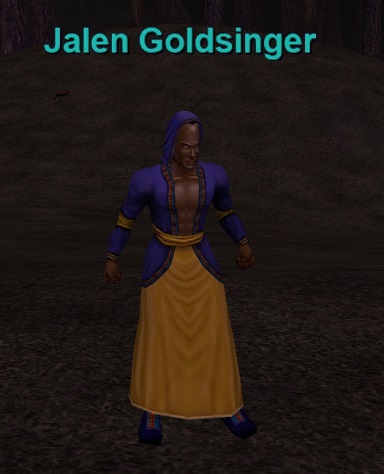 Uploaded August 17th, 2019 by
Drewinette
This mob spawns at +1517, -1589 in the NE part of the zone..
Findable (via Ctrl-F): No
He's on Gate Callers faction. He will talk to you at Apprehensive faction.
You say, 'Hail, Jalen Goldsinger'
Jalen Goldsinger says, 'A fine day. Quite murky and quiet, is it not? May your path be filled with fortunes. Be well.'
You say, 'what Crystal of Capturing?'
Jalen Goldsinger says, 'Hrm? A crystal of capturing? Aye. I do know the secret of their making. Not that I would tell you. I will, however, create one for you. Provided you bring some of their components and a large coin reserve, that is. I require a potion of sorrow and 1000 gold coins. A tidy sum, in return for which, I will do you the favor of not asking why you need such a... dark item.'
Hand in the potion and 1000 gold coins (or 100 platinum coins) to receive an Empty Crystal Sphere used in the Erudite Necromancer quest Azrax's Legacy.
This page last modified 2019-08-17 23:09:36.