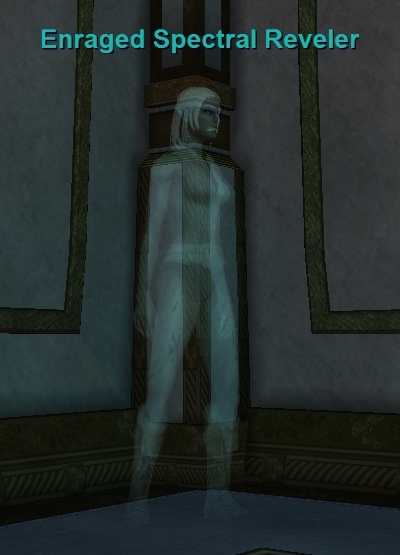 Uploaded October 27th, 2014 by
Railus
Enraged Spectral Reveler (click for map image) spawns in the corner of the dining room of the western wing (PH "an angry spectral reveler").
Map points for "degmar.txt" map files (for all Degmar named map points, see this quest entry):
P -95.8795, 449.6999, 42.5468, 127, 0, 0, 1, Enraged_Spectral_Reveler
P -201.9660, 450.9929, 41.0111, 127, 0, 0, 1, Enraged_Spectral_Reveler
Hits for a max ~32,000; flurries (no rampage). Every 30 seconds, it casts "Spectre's Haunting" on a random target (DOT for 40,000 dmg/tick for 3 ticks).
NOTE: If you stand in its spawn room for five minutes without having "danced" with the spectral revelers, they all auto-aggro you. The Enraged Spectral Reveler can be pulled outside of the dining room and is NOT social with the Degmar Dwarf population or the non-KOS "a spectral wanderer" in the preceding hall (these mobs will not assist it).
This page last modified 2014-12-04 20:35:31.