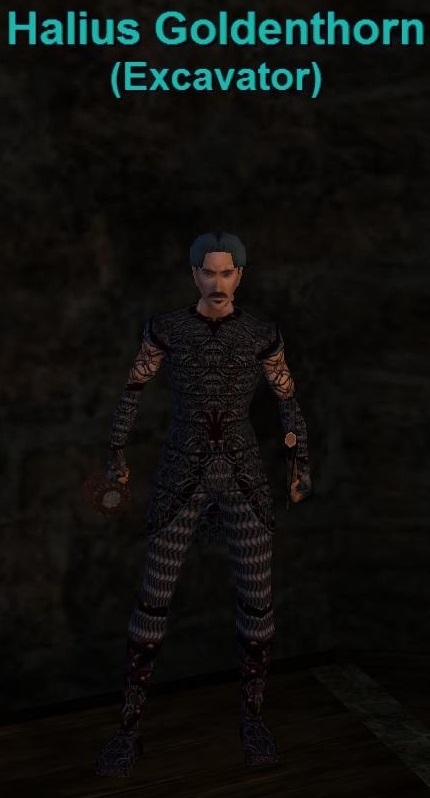 Uploaded November 2nd, 2013 by
Merf
Updated November 4th, 2013
Halius Goldenthorn is located in the vendor house at the zone-in of Sunrise Hills. His inventory is empty by default, but can be opened up by completing collection achievements in Rain of Fear and Call of the Forsaken.
You say, 'Hail, Halius Goldenthorn'
Halius Goldenthorn's attention strays from the group surrounding the table, 'Hail, traveler. I don't believe we've met. I'm Halius Goldenthorn, famed excavator and treasure hunter. Unlike most peddlers of faux [antiquities] I pride myself on stocking only the finest wares.'
You say, 'Antiquities?'
Halius Goldenthorn nods, 'I stock pristine replicas of the world's finest monuments. Unfortunately my suppliers have been falling behind on their shipments. Of course they offer the same tired excuses we've all heard before. He mimics their complaints in a droning high-pitched voice, 'my adventuring party died', 'it's too dangerous to steal Miragul's research tomes', 'you don't pay us well enough'. He shakes his head then looks you over with renewed interest, 'Say, you look like a [collector].'
You say, 'Collector?'
Halius Goldenthorn grins, 'It's a nicer word than thief to describe the kleptomania that so many of you modern adventurers possess.' He chortles, 'Anyway, if you return to me after collecting enough fine wares I'm sure we can arrange some sort of mutually beneficial trade.'
Submitted by:

Demonicspawn Skinwalker the Ambassador
Tunare's Guilded Knights
Tunare - The Seventh Hammer Server
This page last modified 2013-11-02 10:04:13.