Toxicologist Huey [ Poison Merchant ]
Tradeskill Supplies: Poison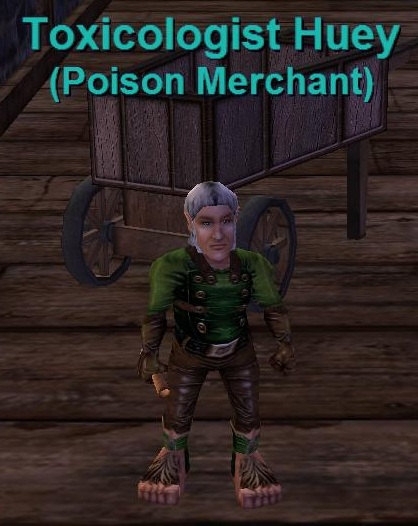 Uploaded April 25th, 2013 by
Railus
Located on the small bank structure, far corner near the Research Merchants (map).
This mob spawns at -264, 733, -93.
Located on the south side of the central district.
Findable (via Ctrl-F): Yes
You say, 'Hail, Toxicologist Huey'
Toxicologist Huey says, 'Hey! You there! I got some materials to make some potent stuff that will give you a bit of an edge in a fight. Just keep it a bit quiet. I don't think Kerst knows about some of the stuff that's a little more, how should we say, underground.'
This page last modified 2019-09-15 04:40:11.
Level: 100

NPC Added:
2013-04-25 17:55:29
NPC Last Updated:
2020-12-30 18:57:31
Goods sold (199):