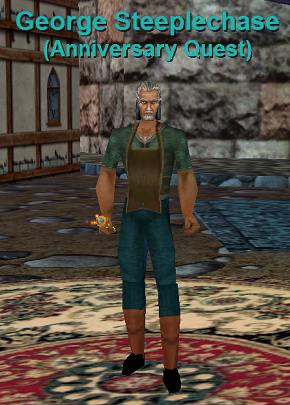 Uploaded April 6th, 2013 by
Byren
This mob spawns at +204, -132.
Findable (via Ctrl-F): Yes
He's the Qeynos NPC for the EQ Fifth Anniversary Scavenger Hunt.
You say, 'Hail, George Steeplechase'
George Steeplechase says, 'Hail to you! Step right up! Step right up! You look like you could use one of the new fireworks we just got in stock! Oh, wait a minute. Are you an [adventurer]?'
You say, 'adventurer'
George Steeplechase looks you up and down. 'I knew it! I can spot an adventurer from a mile away! How would you like to win this shiny staff I'm holding? It only requires a small undertaking, you know, gathering a few trinkets for me. Nothing could be simpler and you'll soon have your very own Staff of Endless Adventures! Are you [interested]?'
This page last modified 2020-04-19 03:41:51.