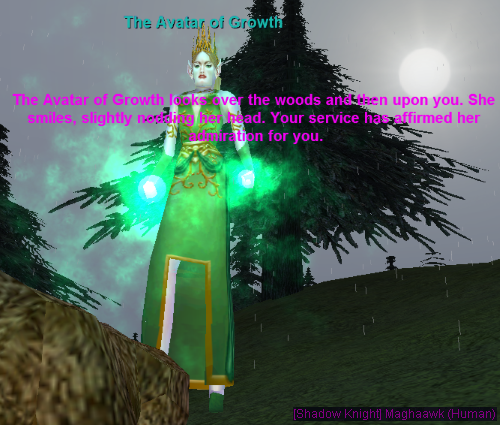 Uploaded September 21st, 2014 by
Maaghawk
Updated September 22nd, 2014
Appears as part of the Ranger version of the Epic Ornamentation task, "An Epic Request" (see this quest entry for details).
The Avatar of Growth spawns upon the completion of the ranger event in Nedaria's Landing for "An Epic Request (Ranger)." She is not targetable, nor does she appear to have any interactions.
Beyar Liikedeh will thank you for your service to nature, and summons The Avatar of Growth. She appears, and text appears as follows:
The Avatar of Growth looks over the woods and then upon you. She smiles, slightly nodding her head. Your service has affirmed her admiration for you.
Then both she and Beyar will despawn, fully ending the event and allowing it to be started again.
If you are attempting "An Epic Retelling" and do so successfully, the additional success message will appear between Beyar summoning her, and the message from her listed above.
This page last modified 2016-07-08 00:11:17.