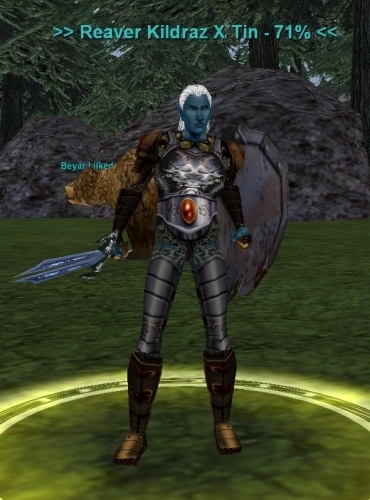 Uploaded July 6th, 2013 by
__DEL__1595780897047
Updated July 7th, 2013
Appears as part of the Ranger version of the Epic Ornamentation task, "An Epic Request" (see this quest entry for details).
Each time the task is run, the location of the tracking sub-components changes (apparently randomly). There is no specific spot Reaver Kildraz X`Tin shows up - he spawns wherever Beyar Liikedeh spawns, after initiating the final segment of the quest by freeing Beyar from his magical bindings.
When he spawns, he threatens people and immediately begins "attacking" Beyar - he is not doing any actual damage, but there will be spell effects and swinging apparent. He is impervious to melee and magical damage at this point, requiring you to back off and use ranged weapons. After you have damaged him sufficiently (it seemed to be 80% as the threshold) he will change targets to you, and attack. He does summon. At this point, he becomes vulnerable to both melee weapons and to magical attacks.
After some additional damage is done (reaching perhaps 60-65% I believe), you will see on screen the message:
You get the feeling your nature attuned weaponry will be effective against this foe! Perhaps something imbued with the powers of EARTH and WIND.
Make sure you're using your epic weapons here (Any of them, 1.0 or higher, works equally) and continue to fight him. In short order, his health will drop directly to 7%, and you'll see the message:
An otherworldly scream is retched forth from the dark knight as the power of nature rips through his body.
Finish him off howsoever you please. He has probably in the range of 500,000hp (though you don't need to worry about more than half of them), and hits for only 600-800 using double attacks and bash. Though he appears to be a Shadow Knight, he does not seem to use HT. When he dies:
Reaver Kildraz X`Tin says 'Grah!' The dark elf clutches at his chest, 'Don't think this is over! Not as long as Xanuusus stands and my kin must suffer your existence!''
The quest will then bring itself to an end with Bayer and The Avatar of Growth giving some parting thanks.
He drops no loot.
This page last modified 2016-07-08 00:08:54.