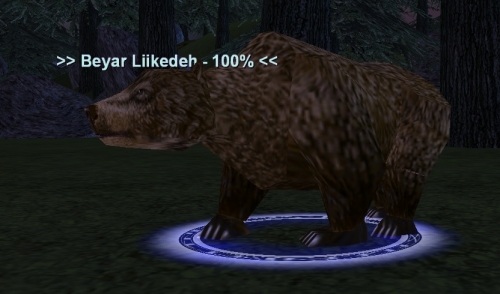 Uploaded July 6th, 2013 by
__DEL__1595780897047
Updated July 7th, 2013
Appears as part of the Ranger version of the Epic Ornamentation task, "An Epic Request" (see this quest entry for details).
Each time the task is run, the location of the tracking sub-components changes (apparently randomly). There is no specific spot Beyar Liikedeh shows up, though he will be very close to the location you receive the update for tracking "fresh prints" and appears when you successfully track that target to completion.
When Beyar manifests, you'll see a message stating:
"The bear appears to be surrounded by an aura of cold, melt it to help set him free!"
You must strike him with a fire-based spell (it will not hurt him) to proceed.
You will then see a message stating:
"Having melted the aura of fire you sense an arcane aura binding the creature's legs. Find some way to counteract its magical properties!"
You must strike him with a magic-based spell to proceed.
After you've done the above, Reaver Kildraz X`Tin will spawn and attack the bear first, then you. When you've defeated the Reaver, Beyar will thank you, summon the Avatar of Growth (who will also thank you), and the task will update.
This page last modified 2016-07-07 23:56:16.