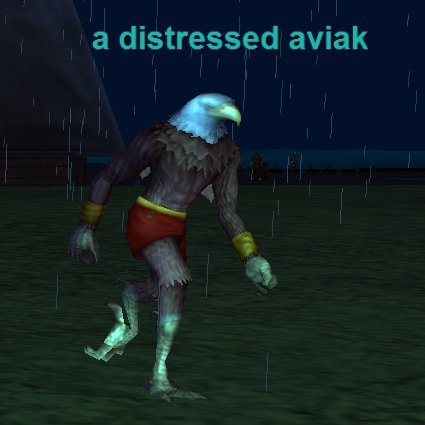 Uploaded February 23rd, 2020 by
nytmare
Appears as part of the Ranger version of the Epic Ornamentation task, "An Epic Request" (see this quest entry for details).
Each time the task is run, the location of the tracking sub-components changes (apparently randomly). There is no specific spot "a distressed aviak" shows up, though he will spawn almost directly on top of the location you receive the update for tracking "clawed bark" and appears when you successfully track that target to completion. You will have approximately one to two seconds to get an easy target on him before he sprints away at bard speed, running in an immense and very fast loop around the lower portion of the zone.
When a distressed aviak spawns, you'll see a message stating:
A distressed aviak yells, 'Squaaaaak! Help, I can't slow down!' Find some way to slow the poor bird down!
You must land some form of a snare on this fellow to progress the quest (your AA version, if high enough level, works nicely). If you don't have the speed to catch him or missed your targeting opportunity, set up along his path and he will make return loops. Keep hitting your hotkey to cast, and you can hit him as he runs past. Upon landing a snare, you will then see:
The panicked aviak squawks, 'I am indebted to you friend! Some dark force had taken over my legs! Some evil thing has taken root in our woods! Look for [1], he might know more!'
At this point, a distressed aviak will despawn, and Hopkit will appear on your tracking.
This page last modified 2016-07-08 00:02:47.