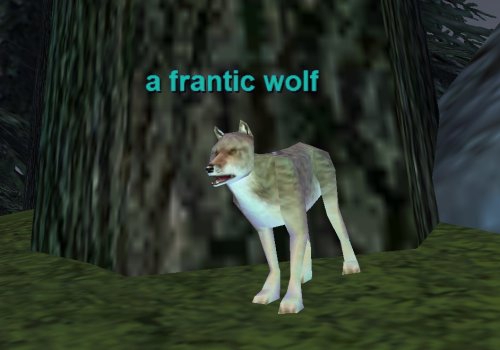 Uploaded February 23rd, 2020 by
nytmare
Appears as part of the Ranger version of the Epic Ornamentation task, "An Epic Request" (see this quest entry for details).
Each time the task is run, the location of the tracking sub-components changes (apparently randomly). There is no specific spot "a frantic wolf" shows up, though he will be very close to the location you receive the update for tracking "broken branches," and appears when you successfully track that target to completion.
In order to speak to the wolf, you must yourself be in one of your wolf forms (If you're not, you'll just get a prompt telling you you'll need to change). The dialogue is as follows:
You say, 'Hail, a frantic wolf' a frantic wolf barks furiously, 'My friend! Trouble! The [1]!' You say, 'what bear?' a frantic wolf howls, 'Bear! Something evil! Hatred! Woof! Look for his claw marks on the trees!' The frantic canine takes off into the woods!
When the wolf despawns, the next tracking target ("clawed bark") will appear.
This page last modified 2016-07-07 23:52:19.