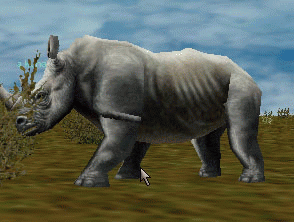 Uploaded July 24th, 2007
The Kunark rhinos are found only in the Overthere. They are found all over the zone though, and can vary widely in level. To the eastern side, they can be as low as level 16, and will slowly go up in level to about level 35.
They are good hunting, but the level 35 version will hit for 80+ Damage, and outrun Journeyman's Boots.
Aggros even when grey: Yes
This page last modified 2020-11-13 01:34:52.