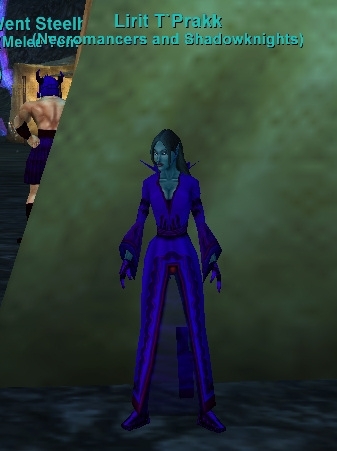 Uploaded December 2nd, 2012 by
Railus
Located outside a tent in proximity of 400, 50, 2 -- this is the southwestern part of the crater where all the Shard's Landing task NPCs are found.
You say, 'Hail, Lirit T`Prakk'
Lirit T`Prakk says, 'Hail to you, _____. I have a full assortment of newly researched necromantic spells that I've been ordered to pawn off on any passersby.' She snorts, 'Not that those upscale [lizards] bother to ask how much work it is to stand here and give this sales pitch all day.'
You say, 'lizards'
Lirit T`Prakk says, '[Drent] and his 'commander' [Glask] Rek.' She chortles, 'The dumb fool really thinks people don't see how he looks at her like that.''
You say, 'Drent'
Lirit T`Prakk says, 'A glorified box-boy with the title of commander. I'll leave you to imagine how he finagled his way up the ranks so quickly without having the basic skill set of a soldier.'
You say, 'Glask'
Lirit T`Prakk says, 'She's not as bad as her little 'overseer' but it's still an abuse of power the way she uses Drent like that. I bet Glosk wouldn't be too happy with the news of how his mate acts in his absence.'
This page last modified 2020-06-06 16:14:16.