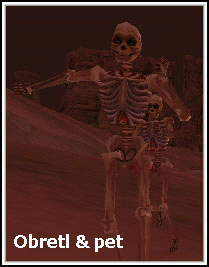 Uploaded July 24th, 2007
Having only killed him once, I don't know what else he might drop. Obretl is red to a 19, but his pet cons blue.
Obretl drops charred bone chips, which are a component of the Fright Forged Helm quest in Paineel. The helm is AC 11, +2 Str, +4 Wis, -5 Cha, Effect: Deadeye, ERU HUM CLR only.
A really sweet helm, one of the best outside the plains for an Erudite or Human cleric. Too bad us dwarves can't use it. Obretl fears and dots you, as a warning. He cons indifferent, and will tell you "this place is not for the living, get out!" or some such, if you hail him. He spawns at the little temple in the souther edge of the desert. As for rarity, I've seen the AC spawn 6 times while I've fought in South Ro. Obretl has only spawned once and no one in my guild had ever heard of him...
This page last modified 2017-07-14 00:41:25.