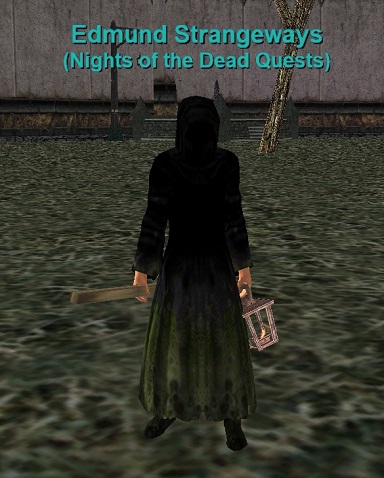 Uploaded October 12th, 2019 by
Drewinette
This mob spawns at 645, +183 near the Field of Bone stone.
Findable (via Ctrl-F): Yes
He only spawns during the Nights of the Dead period, around october.
You say, 'Hail, Edmund Strangeways'
Edmund Strangeways leans on his shovel and peers at you from beneath a wrinkled brow. 'You fool, step carefully! You're disturbing my graves! And aren't you a brash one, running here and there without a care during Harvester's Haunt, oblivious to the [danger] lurking beneath your feet!'
You say, 'What danger?'
Edmund Strangeways says 'This time of year the dead are [restless]. They can't lie still.'
You say, 'Restless?'
Edmund Strangeways says 'I know the dead. I've been putting them in the ground for many [years], and they've taken me to every corner of Norrath. If there's a fire, a plague, a battle, I am there. The dead need burying. But you best bury them deep, for every Harvester's Haunt they toss and turn, yearning to breach the barrier of earth and rejoin the living. It's the right time to [find] them.'
You say, 'Years?'
Edmund Strangeways says 'I've been digging graves since I was but a lad. The disease came swiftly, decimated my village. I buried my friends, my sister, my brother. I buried my father and mother on the hill overlooking our farm. I buried them all, every last one. The village square looked freshly tilled by a herd of oxen, sewn with the seeds of death. The wind in the trees and the rasp of metal was all I heard when I scraped my shovel over the last pile of dirt, packing the soil over the face of the village elder. Not one voice called after me as I walked out of town, carrying my shovel. Somewhere there were more people dying. Somewhere there were more graves to dig.'
You say, 'How can we find them?'
Edmund Strangeways says 'The twitching of the dead churns the soil, and disturbed earth rises. You see a gopher's burrow, I see revealed graves of men long dead and [hidden].'
You say, 'Hidden?'
Edmund Strangeways says 'Ah, made you curious, did I? You may be naive and foolhardy, but I know an adventurer when I see one. I'm old and stiff. . .too many years with the shovel. My legs won't carry me far. But you could go in my stead. You could [bring] me what I [seek].'
You say, 'bring'
Edmund Strangeways says 'Now is the time to find the ancient corpses. Those long dead reveal themselves in the disturbed earth. The art they hide on their bodies hasn't been seen for hundreds of years. Just imagine what beautiful sights and mysteries have been lost from the world all this time. Dig up the corpses and bring me any tattooed skin you find. Here, take my shovel. By the looks of you, I'd say you should head to the Field of Scale or the Loping Plains. The dead there are worth your while. But be careful: restless as they are, the dead don't take kindly to your disturbing their place of slumber. If you forget where to dig, come to me, and I'll remind you.'
NOTE: The zones to which you are directed depend on your level.
You have been assigned the task '[Digging Their Graves]'.
This page last modified 2019-10-12 20:03:11.