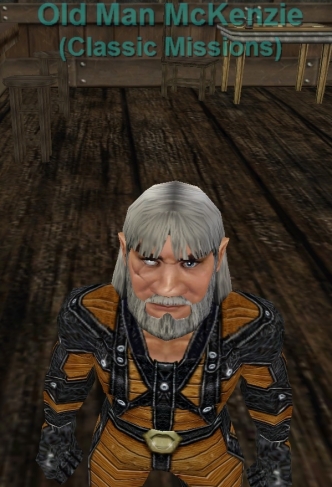 Uploaded December 29th, 2013 by
Kynsh
This mob spawns at +68, +262 inside the tavern.
Findable (via Ctrl-F): Yes
You say, 'Hail, Old Man McKenzie'
Old Man McKenzie says, 'Hail yerself, ya wee wanna-be hero! All ya young'uns these days dunna have any respect fer yer elders. Back in my day, we didna' have these fancy portals back and forth across the world! We had to walk both ways up across them Serpent Spine peaks! And if'n a dwarf wanted to go back ta see the glory o' Kaladim, he had to ride a BOAT! An' don't be getting' me started on the [equipment] we had to make do with! If ya have any o' tha faded equipment, ya can give it ta me and I will refund ya some brews.'
You say, 'equipment'
Old Man McKenzie says, 'O' now ye gone and done it! We were lucky if we had one combine long sword between us! None o' this fancy defiant armor that all ye lads be talkin' about now days! All we had was good cold steel and iron! Maybe ye'd be lucky enough to see a bit o' mithril now and again, but that wasn't much comfort against the ragin' flames o' [dragon fire]!'
You say, 'dragon fire'
Old Man McKenzie says, 'Well from Lord Nagafen, o' course! He caused quite a ruckus back in my day. E'ry group o' slack jawed daffodils that ventured into those lavastorm mountains was ne'er heard from again. That is, until we went [after him]. We practically had an army going in there ta bring him down! O' course, that was a bit o' a rarity. We didn't always travel in such large [groups].'
You say, 'after him'
Old Man McKenzie says, 'Aye, laddie, we! We were the finest group o' madmen ya'd ever seen. Not that we were any better than those that lost, we just happened ta have a bit o' luck on our side. Course ya wouldna' believe me [whole story] if'n I told ya anyhow.'
He offers two Ancient Heroes raids : Lady Vox and Lord Nagafen.
You say, 'groups'
Old Man McKenzie says, 'Aye, most o' the time we went pushin' over rocks and gettin' blasted by evil wizards, we only had a few of us. I'm sure I've got a [story] or two that ya just wouldna' believe!'
He offers three Ancient Heroes group missions : Nagafen's Lair, Cursed Guk and Lower Guk.
This page last modified 2021-12-24 23:23:48.