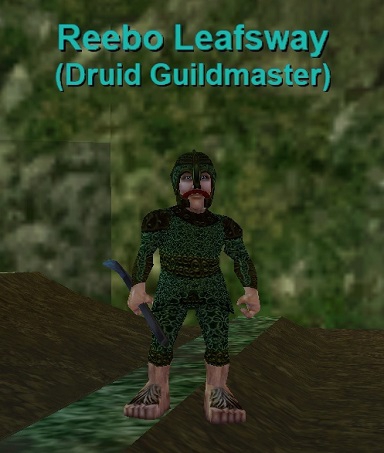 Uploaded September 1st, 2019 by
Drewinette
In Rivervale: Druid Guildmaster, roams around the garden.
You say, 'Hail, Reebo Leafsway'
Reebo Leafsway says, 'Greetings and salutations, _____! My name is Reebo Leafsway, loyal Druid of [Karana]. I am in charge of helping young druids who wish to get started down the [trail to Karana's wisdom]. I also do my share of tending the [crops].'
You say, 'Karana'
Reebo Leafsway says, 'Karana is known as the Rainkeeper. It is through His will that our [crops] and our children grow big and healthy. He watches over us and protects us, calling down the fury of a tempest on those who wish harm upon His followers.'
You say, 'crops'
Reebo Leafsway says, 'The crops we grow here are mostly carrots, lettuce, and squash. We are also the only place in all of Norrath where the soil can support the mystical Jumjum Stalk.'
In the Plane of Knowledge: Reebo Leafsway (click for map image) appears in the Plane of Knowledge (a little ways south of the main bank) as part of anniversary events.
This page last modified 2019-09-02 03:09:58.