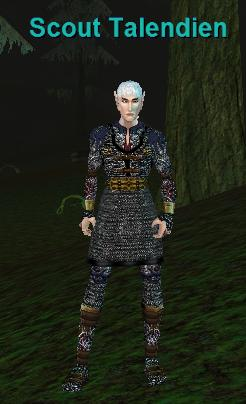 Uploaded November 12th, 2008 by
__DEL__1592283423202
Updated November 14th, 2008
This mob spawns at 1065, -115 just SW of the Void zone in.
Findable (via Ctrl-F): Yes
You say, 'Hail, Scout Talendien'
Scout Talendien says, 'Well met. If you honor yourself to serve the Army of Light in this, the eve of the greatest battle that e'er shook Norrath, proceed to the west along the road, and find the warcamp of the Dragonheart Regiment. There, speak with Supplymaster Kibrek, who can certainly use a hand in gathering supplies for the warhost of Firiona Vie. If you [will] agree to do this, I will grant you an item of recognition.'
You say, 'will'
You receive an Army of Light Pendant.
Scout Talendien says, 'Farewell; I'll keep watch on this corner of the forest while you make the journey to our camps. Show your Army of Light pendant; it will mark you as an ally.'
---
Wearing the Army of Light Pendant increases your
Army of Light
faction by 1000 points and reduces your faction with
Thaulen Teir'Duuren
by 100 points.
This page last modified 2021-07-11 16:03:52.