Skeleton Keymaster
a rare creature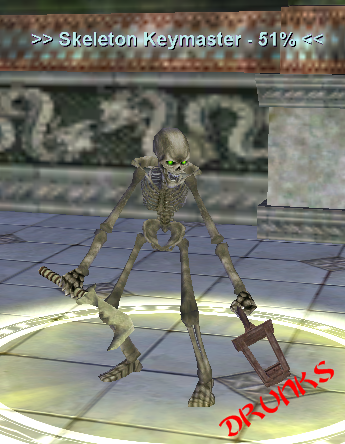 Uploaded November 21st, 2008 by
__DEL__1669594654877
Two known spawn locations:
-2000, 175 (this is a roamer)
-910, 170 (static spawn)
Hits for a max ~4,800.
On Aggro: Skeleton Keymaster says 'So, you wish to find the entrance to the next world. I can oblige you.'
On Dispell: Skeleton Keymaster says "Oppression takes many forms. To be free one must leave everything behind, especially those things they value most."
On Death: Skeleton Keymaster's corpse rattles to the ground.
This page last modified 2013-04-04 16:02:47.
Level
: 86
Expansion
:
NPC Added: 2008-10-25 16:05:25
NPC Last Updated: 2021-06-05 18:32:08