Axe Broadsmith
Quest NPC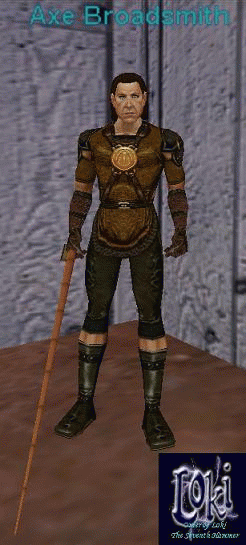 Uploaded July 24th, 2007
This mob spawns at +3773, +962 in the small building by the northern lake..
You say, 'Hail, Axe Broadsmith'
Axe Broadsmith says, 'Greetings. The fishing is sparse here. You would fare better at [Lake Rathe].'

You say, 'Lake Rathe'
Axe Broadsmith says, 'Beyond the Plains of Karana can be found a pass to Lake Rathe. I have heard stories of a giant water beast and underwater cities. I wish I knew how to swim.'
This page last modified 2018-10-02 16:31:31.
Level
: 20
Expansion
:
NPC Added: 0000-00-00 00:00:00
NPC Last Updated: 2019-05-04 22:14:20