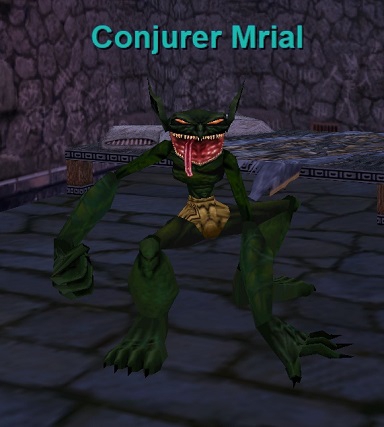 Uploaded September 22nd, 2021 by
Drewinette
This mob spawns at -669, -332 in a room close to the southeast caverns.
You say, 'Hail, Conjurer Mrial'
Conjurer Mrial snarls, revealing yellowed teeth. Several are missing, and from the scarring that covers his face, you wonder what battles he has seen. "Dark Elf. . . your clothing is strange, your accent stranger still. What is your business here, intruding upon my judgement, upon my incarceration? A guard you are not, that is obvious. Have you come to [torment] me?'
You say, 'what torment'
Conjurer Mrial says 'Imprisonment here is torment. From the screams and the shouts, it appears as if mine is not the most unpleasant of all the imprisonments, I have should add. My [cell mate] was dragged away just nights prior, yelling his lungs out, what lungs he had left.'
You say, 'what cell mate'
Conjurer Mrial says 'Strange, was he. As strange as even you. His accent was similar, none like I have heard throughout the Widening, or even from my extensive travels into the Darkened Lands. There are few languages spoken throughout Felinyria, and I am proficient in most. Your tongue is of interest to me. [Rhombiss] told me much that I found unlikely.'
You say, 'who is Rhombiss'
Conjurer Mrial says 'Such was the name that he gave himself, before the guards took him. He claimed that he was a scholar, and came from a land named "Atonicka", or similar. I have charted the entire Known Realms, and never has such a name arisen. Prime Logician Taelin had a [theory] that perhaps held water, on a similar subject.'
You say, 'what theory'
Conjurer Mrial says 'My most trusted advisor, and a man of some considerable talents. . . he came from a land from past the Faraway itself, on the far side of the Known Lands. The journey is perilous even to there. Taelin postulated that all places existed as one, as the strands in a loom. He was a. . . maker of [devices].'
You say, 'what devices'
Conjurer Mrial says 'Such devices I could never understand, but they filled the Gleaming City from front gate to Keep. His contributions to city life were without equal. He always talked of making a device for moving people from one place-strand to another, in the blink of an eye. I was skeptical, for such workings seem too much like the "magic" of which the old [religions] spoke.'
You say, 'what religions'
Conjurer Mrial says 'The ancients are supposed to have believed in all manner of strange models of explaining the unknown. Tales that not even a child would credit. The ideas of my old advisor Taelin came to mind with the mad [ravings] of this Rhombiss fool.'
You say, 'what ravings'
Conjurer Mrial says 'He talked incessantly of opening holes in space itself, and stepping through to his home land. . . that "Atonicka" place, which I don't doubt was a figment of his troubled mind. In his sleep, he screamed as if in battle itself. I don't miss him. Wherever he is, I am quite pleased that it is not here.'
This page last modified 2021-09-22 10:54:07.