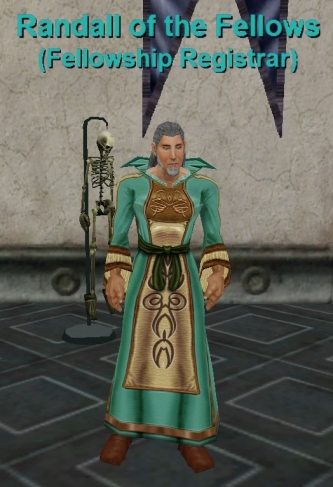 Uploaded December 30th, 2013 by
Kynsh
Updated December 31st, 2013
This s the NPC you need to speak with in order to register your Fellowship. He is located in the building adjacent to the Nexus Stone.


You say, 'Hail, Randall of the Fellows'
Randall of the Fellows says 'Greetings, adventurer! Are you interested in how to [set up] a fellowship or are you looking for more [information] on fellowships?'
You say, 'set up'
Randall of the Fellows says 'To set up a fellowship, open the fellowship window by pressing the default [1] keys. With the fellowship window now open, you can click on the 'Create' button to start a fellowship. Once you have created a fellowship, you will then be able to extend your fellowship to any acquaintances and friends you wish to spend time with by clicking on them and clicking the invite button, however. . . You will want to take special care to invite only those close to you, those whom you can truly trust, as a fellowship can consist of no more than twelve people. Any more than that and it is recommended that you register a guild, as that may suit your needs a bit better.'
You say, 'Information please'
Randall of the Fellows says 'Excellent, it is always good to find someone who is new to the realm of the fellowship! Worry not, friend! I shall explain to you [what] a fellowship is, explain the process of how to [set up] a fellowship, and give you some information on [when] and [how] to [create] a fellowship campsite.'
You say, 'What is a fellowship?'
Randall of the Fellows says 'A fellowship is simply a gathering of friends who enjoy each others' company. A fellowship campsite is a method of gathering your friends together, enabling you to prepare for your upcoming battles in a hasty manner. Some campsites will provide additional benefits to the members of your fellowship who are near the campsite, oftentimes granting them wonderful effects!'
You say, 'When?'
Randall of the Fellows says 'A campsite generally requires a moderate amount of effort to create, so it is recommended that you bring at least two friends with you when scouting for a campsite location. Once you've found a suitable location for your campsite, you and your friends will be able to create the campsite, as long as you have all the appropriate items.'
You say, 'How?'
Randall of the Fellows says 'The first step in using a campsite requires that you open your fellowship log book and look for the campsite that you wish to set up. Once you've decided which one you would like to set up, verify that you have all of the items necessary to create the campsite. Then, convince a couple of your friends to help you set it up. Take your log book and the items to the area you've chosen for your campsite and then simply set it up using the instructions in the log book. I will also give you this Fellowship Registration Insignia. This insignia is linked to your fellowship and using it will bring you to the current location of your fellowship's campsite.'
Receive Fellowship Registration Insignia (the clicky teleport item).
You say, 'Create?'
Randall of the Fellows says 'The first step in creating a fellowship campsite requires that you take a look in your fellowship roster book which displays a list of the campsites that you can make, as well as a summary of the campsite's effect and the items required for you to set up the campsite. Fellow Byllie and Fellow Wyllie here have a stockpile of items, if you are interested in purchasing them. The campsite itself should be created out in the field in an area where you would feel comfortable using it.'



More information about The Buried Sea expansion can be found in this guide.


From the manual:

A Fellowship is like a mini-guild for those who play together regularly. Fellowships have a maximum of twelve players and exist in addition to guilds. All members get a token, access to a Fellowship-only channel, and the ability to create campfire when at least three "Fellows" are in the same area. Fellows use their tokens to transport directly to the campfire allowing them to catch up with their playmates quickly. Campfires can be upgraded to provide effects to nearby Fellows. These upgrades are expendable and need to be repurchased. A Fellowship can only have one campfire active at a time.
This page last modified 2019-06-20 09:23:32.