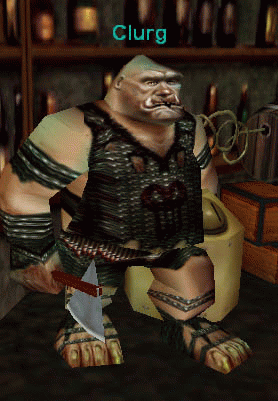 Uploaded July 24th, 2007
Clurg is the venerable bartender of Ogguk. Famed throughout Norrath for his exotic alchololic creations (including the Flaming Clurg), his reputation is large.
Clurg is also the keeper of the Stein of Mogguk, an excellent Mug for all caster types. He will give you a stein (if you faction is indifferent of higher) if you give him the bartenders compendium, which he lost in Freeport.
Enchanters can have an excellent time with this quest, and are pretty much the only people who can do it.
In his past travels, Clurg apparantly ran afoul of King Kazon Stormhammer (the King of the Dwarves, aka Grumpypants), and your faction with the Dwarf King can be seriously hurt by doing the Clurg quest.
This page last modified 2008-01-02 15:00:15.