Sullon Zek, Mistress of Rage
Raid Encounter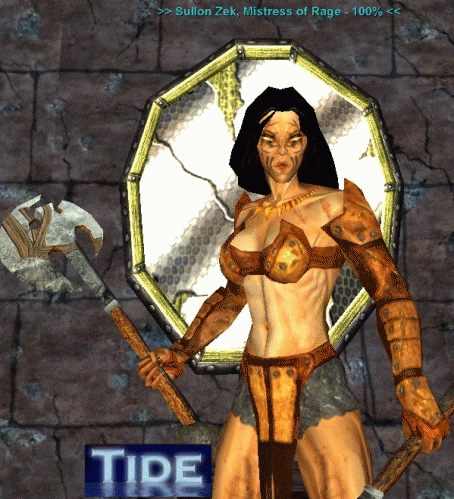 Uploaded July 24th, 2007
Starting at about 87% and then every 12% health after, four raging beholders (hit for ~2200; rampage; flurry; unmezzable; unsnareable) spawn in the hallway leading to her room.
The spell Sullon's Plague is cast on everyone every three minutes.
She is tethered to her room and DT's if pulled past the gate in her room.
One of Sullon's Ferocity or Sullon's Vengeance or Sullon's Wrath are cast on four random people every 90 seconds. After about 10 seconds, those who are inflicted with those spells will AE the same effect on all those around them (the range is large - about 300).
Maximum hit: 4,500
Single-Target Rampages: Yes
This page last modified 2018-05-31 09:58:37.
Level
: 85
Expansion
:
NPC Added: 0000-00-00 00:00:00
NPC Last Updated: 2019-08-03 23:13:50