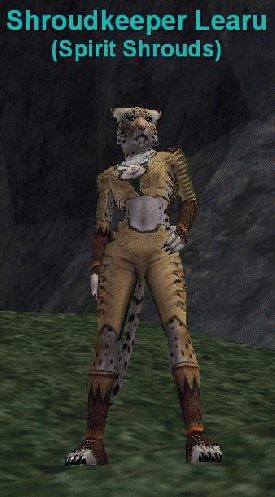 Uploaded August 17th, 2007 by
Glue
This mob spawns at -299, +636 next to a tree, between the small (wooden) Bank platform and the south east corner ramp to the Library mountain (bottom).
Findable (via Ctrl-F): Yes
You say, 'Hail, Shroudkeeper Learu'
Shroudkeeper Learu says, 'You have come to take on the guise of Norrath's spirits? A wise choice you have made. I am able to connect you to the ethereal world and offer you a great number of forms to take, all with varying power and abilities. The choice is yours! When you wish to return to your natural form, ask me to [remove] the shroud.'
A window "Spirit Shrould Selection" opens. Select a Monster type (Aberrations, Animals, Elementals ...), a Monster class (Imp Wizard, Bear Beast, Earth Elemental Fighter ...), a Monster level (from 5 to 70), then click "Select Monster" to transform.
You get a few Monster AAs, including the Spirit Sending AA that returns you to the spirit shroud master that transformed you.
To transform back to your usual form:
You say, 'remove'
Shroudkeeper Learu says, 'Your mind and body are united once more.'
This page last modified 2019-09-15 04:49:01.