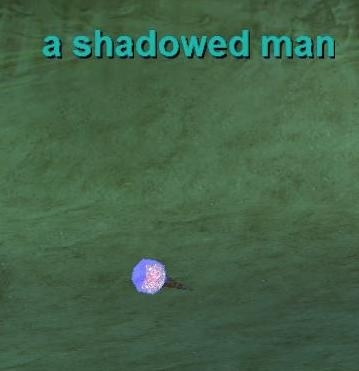 Uploaded January 15th, 2010 by
Glue
Updated January 16th, 2010
The shadowmen come in the classes of Warrior, Monk, Cleric and Necromancer. The Necromancers tend to look like books, while the Priests have the appearance of Snow cones. The Warriors tend to show their weapons, while the monks are invisible (save for their name).
Shadowmen hang out at fixed locations, usually in groups from four to seven. They do not have a huge aggro raduis, but are social so Harmony can be very handy in fighting them.
Shadowmen move very very quickly. If you're trying to run from them, you will need a highlevel bard with a magical drum to be able to escape them, they can outrun all forms of SOW.
Shadowmen drop numerous items for numerous quests. So many items are dropped that it can be a maddening experience trying to get the one you need. It has been theorized that the shadowmen in different zones are more likely to drop the various items.
Most of the items they drop are "no rent" meaning they will dissapear if you log out.
In Innothule Swamp:
This mob spawns at -420, 325.
This page last modified 2021-06-06 14:47:12.