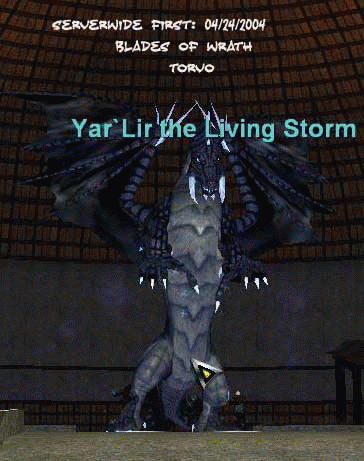 Uploaded July 24th, 2007
The doors to Yar'Lir's lair seal shut when Yar'Lir hits 95% health.
Hits for around 4400; enrages; AE rampages (mitigated to ~900-1000 per hit).
Sees invisibility; does not see Shroud of Stealth.
Yar'Lir is permanently rooted.
Other forms include Yar`Lir the Hurricane`s Eye, Yar`Lir the Mistress of Winds, and Yar`Lir the Matriarch. Whichever form she is killed in will spawn the chest with loot.
Spawns Adds:
In hurricane form, an unstable storm spawn in the perimeter of the room. They cast "Force Quake", a strong hp/mana DoT -- avoid them.
In matriarch form, spawns many of a blizzard seeker. These cannot be avoided.
After she's killed, a chest spawns with additional loot.
This page last modified 2011-08-07 21:20:38.